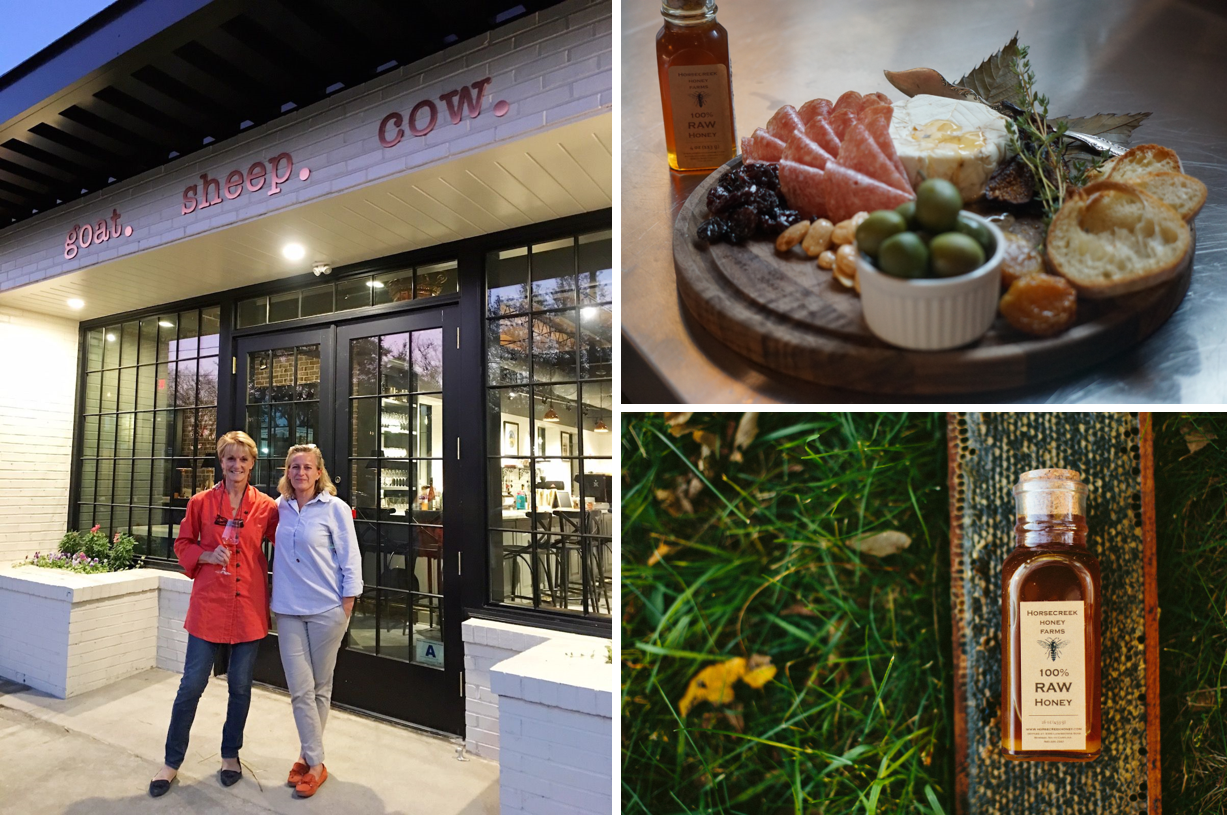 GrowFood Carolina's customers are all unique, and we're lucky to work with a wide array of restaurants, retailers and institutions. Our collaboration ensures our community has access to local produce in their grocery store, work cafeteria and favorite food truck.
The retail/restaurant hybrid is one of our favorite models because consumers have the opportunity to taste great local products and then take some home. Last year, when our friends Patty and Trudi at goat.sheep.cow. shared with us the concept for goat.sheep.cow. north (in our neighborhood!), we were beyond excited. When the new shop and restaurant opened in November, Patty and Trudi made sure that local fare was featured on both the menu and shelves.
The new location is still a cheese shop that sources premiere cheeses and wines from around the world. But, goat.sheep.cow. north also houses a wine bar, rows of retail shelves and a locally-sourced, seasonal, expanding menu. This "live menu" frequently relies on GrowFood Carolina, the Coastal Conservation League's food hub, for a consistent, diverse supply of local fruit, vegetables, restaurant staples like eggs and milk, and take-home retail items like Horsecreek Honey.
For more than four years, we searched to find a truly local, consistent honey producer that matched our quality standards. In 2015, we met Kathy and Ferron of Horsecreek Honey and knew we had finally found our bee farmers. Bees are an integral part of maintaining productive landscapes in South Carolina, and honey is the perfect product to highlight our conservation efforts to keep bee populations safe and create economic opportunities for producers through the food hub. The long search yielded sweet results. The first time the goat.sheep.cow. team tasted Horsecreek Honey, they were hooked.
Patty, Trudi and goat.sheep.cow. north chef Bobbi McLaughlin appreciate that we visit every single farm and the authenticity these visits bring to what they serve in the shop. Horsecreek Honey's wildflower raw honey is often paired with assembled cheese boards and served alongside cups of coffee and tea.
Ultimately, quality is paramount at goat.sheep.cow., and the shop's team believes that GrowFood Carolina's standard of excellence is matched by their own. "It is an expectation that whatever we use is the best we can get," Bobbi said. "That's why I look at GrowFood's list every day. They know what we use and what we like."
Goat.sheep.cow. purchases from GrowFood Carolina because they trust us to source ingredients of the highest quality, from producers with the greatest integrity, close to home. Please consider making a donation today to ensure the food hub can continue this sweet work.

---
Contact Us