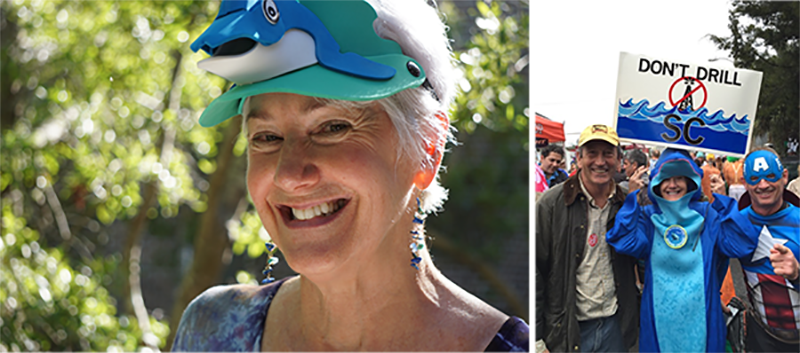 It started with a song.
Alice Morrisey moved to Sullivan's Island in 1981, when she says the town was simply populated by retirees and aging hippies. A multi-family development project was proposed for the island, and Alice attended a public meeting with neighbors to watch others voice their opposition. Spontaneously, she stood up.
"I didn't have anything to say, but I started singing 'they paved paradise and put up a parking lot,'" Alice said.
By the time she reached the end of Joni Mitchell's song, the entire crowd had joined in. Alice had found her voice. Later, she would add a dolphin costume.
In response to the recent threat of offshore drilling, Alice and four of her neighbors on Thompson Avenue formed Don't Drill SC Lowcountry—a citizen-led, non-partisan group that aims to protect the state's state's beaches and salt marshes from drilling for oil and gas off our coast. Alice began dressing up as a dolphin to spark conversation and get the community's attention.
The original dolphin costume was made mostly out of a wetsuit, and it was very hot. Her suit has evolved to include a summer version that she has worn all the way to Washington, D.C. As Alice the Dolphin, she has met Rep. Mark Sanford and Sen. Tim Scott and attended movie screenings, petition signings and business summits. At nearly every event, the Coastal Conservation League has had a presence, too.
The Conservation League has supported Don't Drill SC Lowcountry and other grassroots advocacy efforts, provided signs and stickers at public events, organized conference calls, and disseminated news and information to concerned citizens.
"The Conservation League really works behind the scenes," Alice said. "It can feel like I'm on an island, and it's a comfort to know y'all are there to help us."
At 66, Alice said her advocacy has only strengthened in the latest phase of her life. She is a breast cancer survivor and a widow. She has remained in the same coral house on Sullivan's through big storms like Hugo and pervasive development. Despite new threats of offshore drilling from the current administration, Alice said she will continue to rally.
"This last phase is about contemplating your legacy," Alice said. "It's about being who you are, knowing your truth and hoping to make a difference in this world."
"It's not an anger. It's a passion to save the earth."
With your help, we get involved and remain invested in local conservation issues, resulting in positive change in South Carolina. Make a gift to the Conservation League today.

---
Contact Us