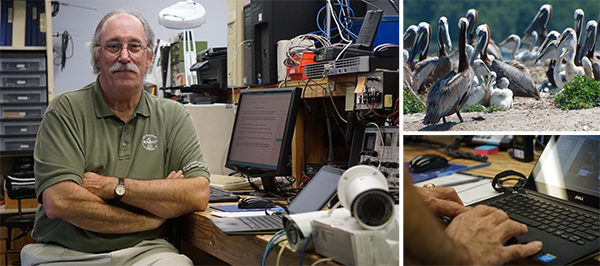 Last summer, Wray Lemke walked out of his office to find his wife and business partner, Susanne, yelling at her computer monitor. The hoodlums, he thought. It's the birds again.
For more than two years, Wray has poured his time, energy and expertise into helping the Conservation League get our Pelicam running each season. The Pelicam project is a successful collaboration between the Conservation League, the South Carolina Department of Natural Resources, Coastal Expeditions, Charleston Harbor Pilots, Stasmayer, Inc. and Wray's small business in Mount Pleasant. Cameras, located on Crab Bank near Shem Creek in the Charleston Harbor, stream a feed of the Bank's rowdy pelican population, including three big birds—the hoodlums. As Wray tells it, the hoodlums stirred up trouble by poking around nests and picking on younger island residents.
Like the thousands before her and future Pelicam viewers, Susanne had been sucked in.
The couple started Mt. Pleasant Radio nearly 30 years ago when the town's population hadn't yet reached 20,000. It was his bad idea, Wray jokes. But, he loved radios, servicing shrimp boats and listening to conversations between captains on Shem Creek.
"You could walk across Shem Creek on shrimp boats," Wray remembers. "That creek defined Mount Pleasant for decades. We were lucky to be a part of that era."
Historically, Mt. Pleasant Radio has supported Charleston Navigation by enabling pilots to communicate with ships moving in and out of the harbor. More recently, Wray set up Boeing's solar-powered alert system for approaching storms and installed a microwave loop to better connect local water systems.
Wray admits his shop does some niche, unusual things. Yet, his new role as the Pelicam's patron relies on the same methodology and creative problem-solving he has always employed as a small business owner and a coastal advocate.
Later this spring, the Conservation League will launch the Pelicam once again, advancing our outreach goals and efforts by the Department of Natural Resources to document shorebird populations. For audiences, Wray says, it simply provides another view of the place we love.
Wray gives to the Conservation League because we help conserve the heritage of coastal communities and protect threatened habitat and wildlife. Without his support or yours, we could not continue to achieve our goals. Please consider making a gift today.

---
Contact Us