Folks,
Finally!  Bona fide winter weather!
It seems like years since we've had seriously cold temperatures on New Year's Day.  Last year's balmy January weather snookered South Carolina peach trees and blueberry bushes into flowering at least a month early, setting the stage for a cold snap in March that destroyed 90 percent of both crops.
If this year's trend continues, we'll have appropriately cold winter weather until March, and abundant peaches and blueberries in the spring.
On the point of weather, (which, as any scientist will tell you, does not equal climate), our president tweeted – so predictably that I chose to ignore it – that the cold weather proves … wait for it! … that climate change is fake.
Unlike me, the Post and Courier did not give a pass to this – how should I say it? – know-nothing pandering to the sector of the population that spends most of its time indoors watching television (but not watching the Weather Channel or the Gardening Network).  This editorial makes the important point that America, and Charleston, deserve better.
Post and Courier: Editorial board: Yes, climate change is still real
Says the editorial:
In Charleston, for example, the fight against climate change is a fight for the survival of the city itself. Experts predict that warmer temperatures and melting ice will raise sea levels worldwide by anywhere from a few inches to several feet over the next century.
In a city where a high tide can cause flooding on a sunny day, even a slight increase in sea level could prove disastrous. Several feet of rise would leave entire portions of the region permanently underwater.
Preparing for and fighting against that future should be top priorities for local public officials. And they should be top priorities for Mr. Trump as well. 
The president's argument that a cold snap means climate change isn't a threat is a tired and easily debunked one. Not many people are likely to buy it at this point. 
But Mr. Trump's flippant dismissal of the serious threats associated with climate change is deeply concerning. Rather than playing to his base with a ludicrous tweet, he ought to be working to prepare the nation for the serious climate challenges ahead.
As I have written, (more often than you have probably wanted to read it), there was a time when Republicans and conservatives did not monolithically oppose conservation.  (There are still such people in America, but they do not wield power in Washington, D.C.)
This piece, from the Washington Post, was written by Lee Talbot, whose credentials follow: 
Lee Talbot is professor of environmental science, international affairs and public policy at George Mason University. He is former head of Environmental Sciences for the Smithsonian Institution and former chief scientist on the President's Council on Environmental Quality for presidents Richard Nixon, Gerald Ford and Jimmy Carter.
Washington Post: Talbot editorial: Republicans' attack on conservation law would shock their conservative predecessors
Professor Talbot reports that 63 bills have been introduced in this Congress to "weaken or gut" the Endangered Species Act (ESA), not to mention dozens more targeting the Clean Water Act, the Clean Air Act and other environmental laws.  He notes that 99 percent of the species that have been listed by the ESA, many of which were on the brink of extinction, have stabilized or recovered.  To people who care about nature, this is a commendable record.
Says Professor Talbot:
Now that law, the Endangered Species Act, is under vicious attack in Congress by anti-conservation zealots uninterested in working with their counterparts from the other side of the aisle. 
Such is the state of our national affairs. The political climate makes it difficult to imagine a Republican president recruiting and encouraging a scientist to author progressive environmental legislation and help push it through Congress. 
But that is exactly what Nixon did. At the time, nearly everyone in government, Nixon included, was worried about air and water pollution and environmental degradation from agriculture and development. Everyone wanted to save our wildlife and our natural heritage. They wanted to do what was best for the country.
It's difficult to understand what is going on here.  One possibility is that people just don't remember when bald eagles, brown pelicans, peregrine falcons and dozens of other species were vanishingly rare.  Or when rivers ran purple and red with industrial waste and sewage.  Or when the skies in our major cities glowed hazy brown from air pollution.
If that is the case, Business Insider has just the antidote.  This article includes photographs from the 1970s depicting the conditions of Midwestern cities before the implementation of modern environmental laws.
Business Insider: Vintage EPA photos reveal what Midwestern industrial cities looked like before the US regulated pollution
I've enjoyed spending time in Chicago over the past four years, and I can tell you that city has among the most delightfully blue urban skies in America, along with dramatically improved water quality in Lake Michigan.  Lake swimming and strolling is enjoyed by so many Chicagoans that it's hard to find a place for your beach towel on the weekend (during the summer, of course).
From the article:
Meanwhile, the Trump administration has confirmed plans to eliminate the Clean Power Plan, the Obama-era program aimed at helping the United States meet its Paris climate agreement goals by curbing carbon emissions from power plants. 
The announcement follows a series of other rollbacks from the Environmental Protection Agency. Under administrator Scott Pruitt, the EPA has reversed a ban on a pesticide that can harm children's brains. It has also moved to repeal the Clean Water Rule, which clarified the Clean Water Act to prohibit industries from dumping pollutants into streams and wetlands.
If Pruitt succeeds with these measures, the U.S. could return to some of the same conditions as we had before air and water quality were regulated. 
People may not remember how bad things were, and how these laws helped turn the country around.  But it could be that something else is going on.  It could be, according to this article from Scientific American, that we are witnessing the rejection of conservation as "unmanly," (by men who lack confidence in their own manhood).
Scientific American: Men resist green behavior as unmanly
Researchers have found that women are more inclined toward conservation than men.  According to the article:
Women have long surpassed men in the arena of environmental action; across age groups and countries, females tend to live a more eco-friendly lifestyle. Compared to men, women litter less, recycle more, and leave a smaller carbon footprint. 
These studies say the reason is that men worry that caring for the environment seems "feminine."  So, those who worry about their machismo resist behaving in a way that might call things into question.
I don't know anything about our current president's manliness quotient, but I do remember, painfully, a few weeks during the campaign when we were subjected to extensive discussions about hand size and such.
I think most people would agree that the manliest president we've ever had was Teddy Roosevelt.
Roosevelt is famously (but slightly inaccurately), remembered for the cavalry charge when he led his "Rough Riders" up San Juan Hill, guns blazing, in the face of overwhelming odds, during the Spanish American War.
He is also famously, and accurately, remembered for being one of America's greatest conservationists.  Among many accomplishments, he created 150 national forests, 51 federal bird reserves, four national game preserves, five national parks and 18 national monuments on more than 230 million acres of public land.  Not bad for such a manly man.
TR would probably take issue with our current president's conservation policies, but I think he would be even less pleased with the head of the Environmental Protection Agency, Scott Pruitt.  This article, from the Washington Post, catalogs what many of us in the environmental arena suspected – of the areas the Administration has endeavored to make "less burdensome" and more "business friendly," the environment has taken more of a beating than everything else combined.
Washington Post: How Scott Pruitt turned the EPA into one of Trump's most powerful tools
In fairness, the article reports that not everyone is unhappy about this.  The U.S. Chamber of Commerce believes Mr. Pruitt's efforts are long overdue:
"It is a stark change, the way they solicit input from the industry that they're seeking to regulate," said Karen Harbert, president of the U.S. Chamber of Commerce's Global Energy Institute, who welcomes the shift.
Still, there are those Republican environmentalists who don't support the Pruitt/Trump agenda.  One of those is William Ruckelshaus:
"We've spent 40 years putting together an apparatus to protect public health and the environment from a lot of different pollutants," said William Ruckelshaus, the EPA's first administrator, who led the agency under Richard M. Nixon and Ronald Reagan. "He's pulling that whole apparatus down."
Conservationists have not given up, despite 12 months of environmental jihad. 
Environmental group Trout Unlimited's president, Chris Wood, met with the administrator early on. The two spoke cordially about cleaning up abandoned mines, but the reception "was a lot chillier" when Wood suggested maintaining Obama-era policies to protect seasonal streams and block a proposed gold mine near Alaska's Bristol Bay. 
"It was an incredibly honest meeting," Wood recalled. "He didn't pretend he was going to be Theodore Roosevelt."
That may be the understatement of the month, Chris!  For the record, here is a Washington Post analysis of proposed rollbacks, compared to other issue areas: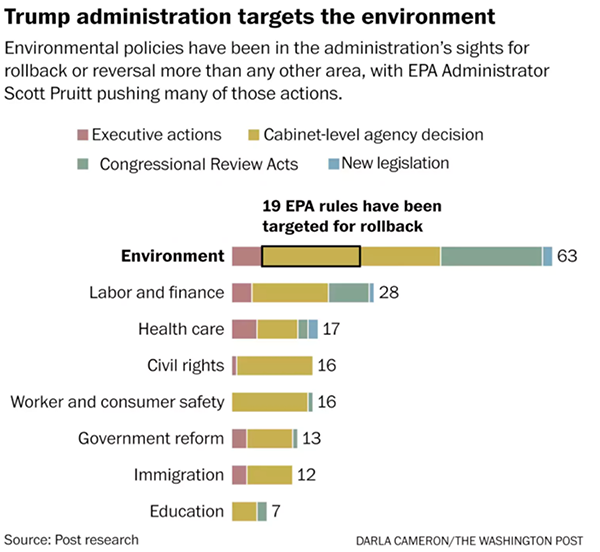 Enough bad news from Washington.  There is plenty of good news around the country.
It is my understanding that a state with an abundance of manly men is Texas.  (I have never been there in person…)  So, this op-ed from My Statesman is especially encouraging.
My Statesman: Hall editorial: Texas bucks national coal trend with faith in renewables
The piece reports on a massive shift in energy production from coal to renewable energy, including a 50-fold increase in solar power.  These are game-changing numbers, in a game-changing state.  And it looks like they will continue despite the revocation of the Clean Power Plan. 
From the article:
As a sign of the times, Austin Energy just announced a major solar power deal. The city's municipal electric utility will purchase 150 megawatts of solar energy from West Texas – putting Austin on track to receive over half of its power from renewable energy by 2020. If that isn't impressive, this deal is coming at record low prices.
This clean energy news come on the heels of a remarkable announcement from the state's largest power generator. Dallas-based Luminant recently declared it will close three coal plant complexes early next year, with a combined seven units representing over half of the power generator's total coal capacity.
 Since Texas' power sector emits more greenhouse gas pollution than those of California, New York, and Florida combined, the significance of these decisions for our air quality cannot be overstated. Closing coal power plants will slash carbon and other pollutants that can lead to heart attacks, asthma attacks, missed days of work, and premature deaths.
Hooray for Texas!
Now the rest of the good news.  We seem to be making real progress on James Island implementing the Rethink Folly Road plan, a welcomed initiative to make that busy road truly multi-modal (for cars, buses, bikes and feet).
Post and Courier: Vision for Folly Road's bike and pedestrian path steps closer to reality as funds fall into place
From the article:
Charleston County is applying for a grant from the Charleston Area Transportation Study committee to fund the majority of a $16 million project to build a bike and pedestrian path along Folly Road from the Ellis Creek bridge to Sol Legare Road.
Governments with jurisdiction on James Island have pledged matching funds to cover 20 percent of the project if the application is approved.
The town of James Island and the City of Charleston have committed $400,000 each, and the county would pay $2 million from the half-cent sales tax fund.
Good for James Island, Charleston County, the City of Charleston, and Mayor Tecklenburg!
And finally, South Carolina has just acquired a magnificent place for our burgeoning population (those people who would rather be outside in nature than indoors watching television).  In this op-ed, (Republican) Representative Bill Herbkersman praises the state's acquisition of St. Phillips Island from the ur-conservationist, Ted Turner.
Bluffton Today: Herbkersman editorial: More visitors spending holidays in Lowcountry
Says Rep. Herbkersman:
Also, there was a lot of work to be done, or redone, on the Parks, Recreation and Tourism budget. With the purchase of St. Phillips Island from the Turner family, all our projections for the park system, particularly Hunting Island, need revision.
You may not have heard about the addition to our park system, but it is a huge deal. It is one of the most important conservation transactions in the history of our state.
We are adding 4680 acres to our most popular park, Hunting Island…
I had a good chat with my friend Duane Parrish, director of SCPRT. Although the St. Phillips purchase has closed, the first several months will be spent in a top-to-bottom assessment of the best uses for this wonderful property… Director Parrish is confident that we will be welcoming visitors to the island by the second half of 2018.
So, here's the good news: It's still fine to be Republican, conservative and a manly man in South Carolina and care about the environment.  I suspect that's true in almost every state.  The current situation in Washington is a strange aberration, of the sort every country undergoes occasionally.
But Republicans and conservatives will continue to care about the environment, energy will become cleaner, and our public land inventory will grow…  if we stay involved.
Happy 2018!
Dana
---
Contact Us