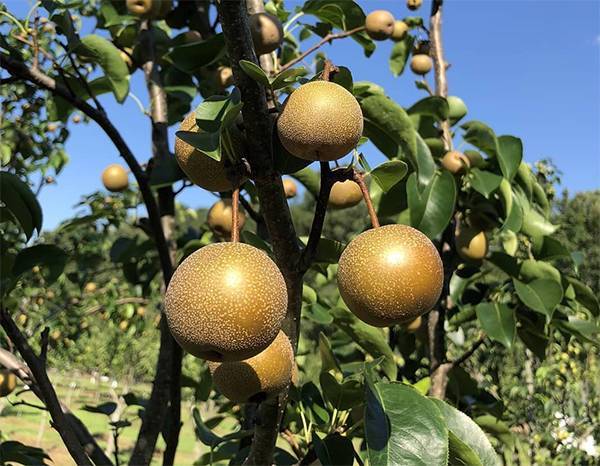 I'm an apple pear
I'm not my apple cousin
Eat me, I'm better.
Here we are … the dog days of summer in the South. And while no one wants to think about turning on their oven for a crisp apple pie, it's exactly the time when the great Pome fruit varieties are ready to pick. Pome? Pome fruits belong to the Rosaceae plant family (sub-fam: pomoideae) and are characterized by a core of small seeds, which is surrounded by a strong, tough membrane, and an edible layer of fruit flesh.
Apples, pears, loquats and quince are some of the most popular pomes. Pome fruit can grow in a wide range of climates and, although we don't have much success growing apples in the Lowcountry, our location is perfect for delicious Asian pears. The Asian pear is also known as an apple pear for its round, squat shape. For more than 2,000 years, Asian pears have been harvested in China and Japan. The fruit was brought to North America in the 1800s and has slowly made its way to the American South. Firm, crisp and sweet, the Asian pear can replace any apple in a traditional recipe. So, this August, go local, drop that apple, channel your inner pome rebel, and pick up an Asian pear.
'A culture change': What's next for Charleston's food scene with less Sean Brock
This month, Sean Brock announced that he was leaving his Charleston culinary endeavors behind to focus on future projects in Nashville. We will miss him, but what's next for our local food scene? Embracing its diversity, suggest industry leaders like Chef BJ Dennis and restauranteur Brooks Reitz.
Poached Asian pear tart
Chef Bernd Gronert is the Baking and Pastry Coordinator at the Culinary Institute of Charleston at Trident Technical College. You might recognize him as Chef B (his twin brother is Chef A) of the Cypress Hill Farm produce booth at the Summerville Farmers Market. This month, Chef Gronert is sharing his recipe for a poached Asian pear tart.
| | |
| --- | --- |
| | @growfoodcarolina: It's going to be a good day #findthefork #undertherainbow #wemakelocaleasy #growinglocalfarms |
"You place one phone call and you're instantly in touch with 35, 40, 50 farmers at all times … GrowFood Carolina is probably the best thing to happen to the farmers around here."
-Sean Brock
---
Contact Us