The Crab Bank Pelicam is currently offline due to damage from Tropical Storm Irma. If you would like to receive email notifications on the status of the Pelicam, click here.

The Crab Bank Pelicam, just off Mount Pleasant in Charleston Harbor, brings you live video of nesting pelicans.
Sign up and we'll keep you updated on what's happening with the pelicans, and related conservation issues.
Located just offshore of Mount Pleasant in Charleston Harbor, within paddling distance of Shem Creek, is a tiny island and bird sanctuary called Crab Bank. Originally a large sand bar, Crab Bank was officially an island by the 1950s, thanks to the continued addition of dredge spoils from Shem Creek. By the late 1970s, enough height built up on the Bank to prevent overwashing, allowing the first documented seabird nesting at the site. Though it cyclically erodes and accretes, Crab Bank consistently offers ideal habitat for a seabird colony.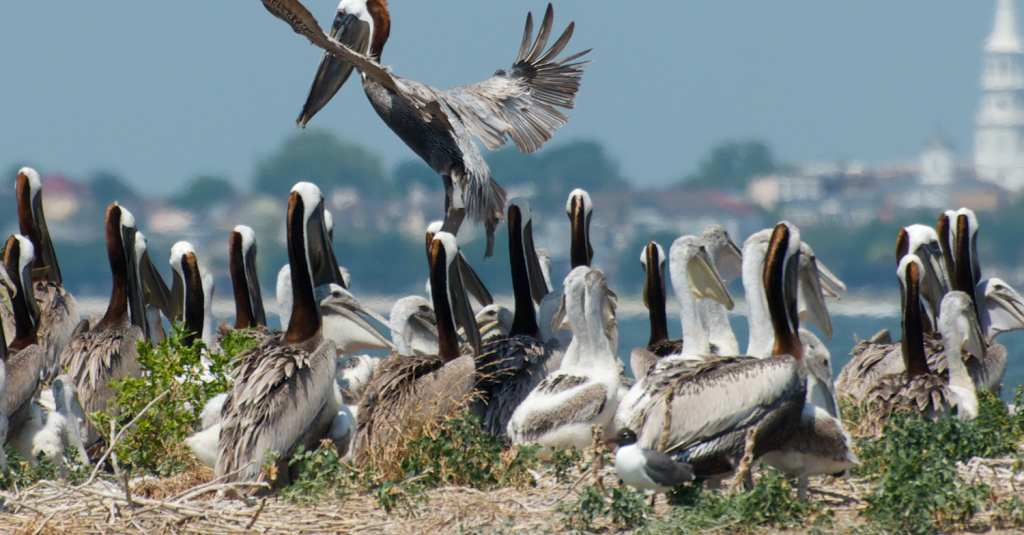 Crab Bank is one of only five active seabird nesting sites in South Carolina, and vital to the survival of at least fifteen species of birds. While it is illegal to directly harm birds in the Charleston Harbor, a designated wildlife sanctuary, human induced disturbances from boat landings and dog walking on Crab Bank threaten the seabirds' already precarious nesting season.
A single event, such as one dog startling the birds, has the potential to decimate the colony.
Recognizing the need for greater protection to bird colonies inhabiting these few islands, the South Carolina Department of Natural Resources (SCDNR) designated Crab Bank, Deveaux Bank, and Bird Key/Skimmer Flats, as bird sanctuaries in 2005. Tomkins Island became a sanctuary in 2015. In order to protect nesting birds, Crab Bank is closed to boat landings from mid-March through mid-October, and only open to the public below the high-tide line during the remainder of the year. 
Several of the species reliant on Crab Bank are Species of Concern in South Carolina, and most are of conservation concern. All of the species are considered in decline, but the safe haven of Crab Bank is allowing numbers of certain species to improve.
Seabirds, as well as shorebirds, waders, and waterbirds, are beautiful to watch. They deserve a safe space to be uninterrupted and thriving. But if you need more reasons than those to support protecting these unique species, remember that birds are indicators of climate change and associated impacts–many changes to the lifestyle of birds can be related to water temperature, alteration of vegetation, and other ecosystem impacts. To watch birds is to prepare for our own future.
Who is on Crab Bank year-round?
Who is on Crab Bank nesting during the summer?
Who is loafing and feeding on Crab Bank during the winter?
How does the Crab Bank Pelicam work?
Two solar-powered cameras sit on a pole on the sandbar, and transmit the live video by radio to Mount Pleasant Radio, where we are running a computer that converts the radio signals to video to send to You Tube. One camera faces east, and one faces west. We alternate the feed every 15 minutes.
How can I help?
The same species of birds reliant upon Crab Bank also nest on Deveaux and Skimmer Flats and our area beaches, so these tips can apply to sea and shorebirds you see across the Lowcountry to help them thrive!
Avoid leaving food scraps behind on the beach.
Refrain children from running and flushing birds, even when birds are resting in the intertidal zone.
Avoid walking next to areas on the beach that are closed to nesting birds. Give nesting pelicans, terns, skimmers, and their chicks space in the intertidal zone.
Share the beach.
Obey the "No Dogs" law on the island.
Avoid disturbing birds to get a photograph.
Support the work of the Coastal Conservation League
google-site-verification: googlef68324ebc2c30a08.html
---
Contact Us