2017 Financial Performance Summary
The Coastal Conservation League is a 501 (c) 3 nonprofit organization whose mission is to protect the threatened resources of the South Carolina coastal plain – its natural landscapes, abundant wildlife, clean water, and quality of life – by working with citizens and government on proactive, comprehensive, solutions to environmental challenges. The Coastal Conservation League is heavily dependent upon philanthropic support for funding programs and operations.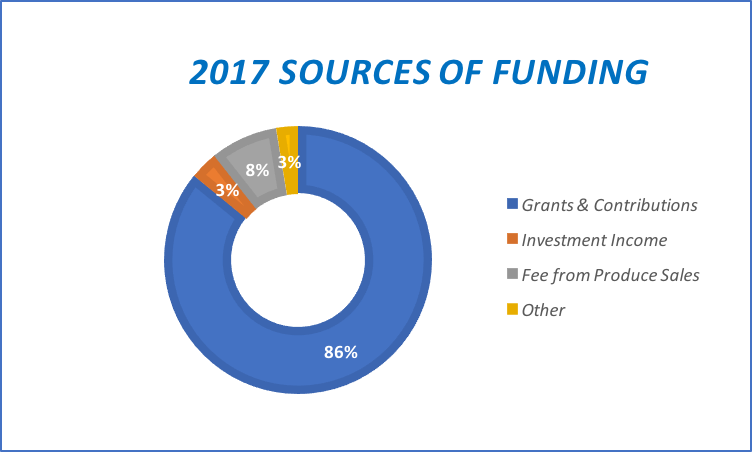 This pie chart illustrates the breakdown of revenues for the year ending December 31, 2017. The Coastal Conservation League, including GrowFood Carolina, received approximately 86% of its funding from contributions and grants. This includes gifts from individuals, foundations and corporations, new pledge commitments and grants. Produce sales through GrowFood Carolina operations resulted in 8% of total revenue. Investments, primarily the $10.8 million endowment account, produced 3% of revenues. Other revenue included rental income, book sales, events, and similar miscellaneous sources.
Revenue is used primarily to support program expenses.  The programs at the Coastal Conservation League include Land, Water & Wildlife; Energy & Climate; Communities & Transportation; and Food & Agriculture.  A detailed description of the programmatic work is located here.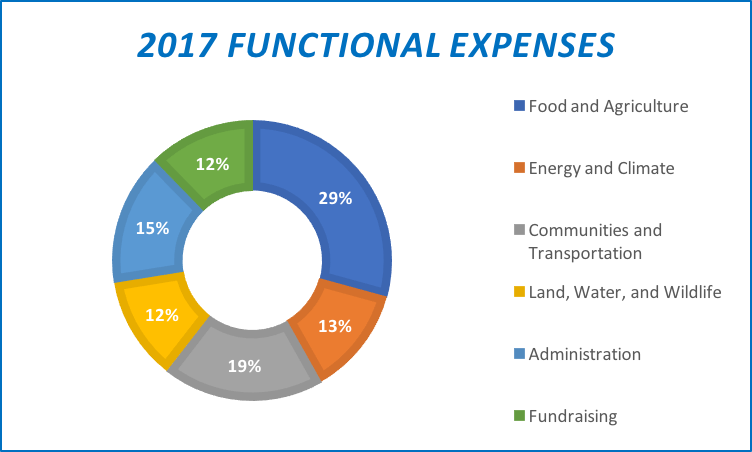 Roughly 73% of revenues supported the Coastal Conservation League's programs, with 15% and 12% supporting administrative and fundraising costs, respectively.  The Coastal Conservation League relies heavily on staff expertise to achieve mission-driven goals and relies on a broad base of support from constituents.  As a result, 67% percent of total expenses for 2017 were personnel related. The personnel expense ratio is consistent with organizations that rely on their staff for advocacy and education. The fundraising ratio is consistent with organizations that rely on private donors for support rather than payment for those services or government funding.
Three highlighted programmatic accomplishments during 2017 are the following.  (1) a return of approximately $1.1 million to farmers selling goods through GrowFood Carolina. (2) Partnering with South Carolina Environmental Law Project (SCELP) and Southern Environmental Law Center (SELC) on several critical issues that resulted in legal expenses of $1,668,000 ($1,630,000 of which was donated as found on page 8 of the annual financial audit). One of the fruits of these often on-going, long-standing legal efforts emerged in early 2018 with a favorable state supreme court ruling which yet again denied developers from building on Captain Sams Spit on Kiawah Island. (3) Lobbying expenses totaling $60,800, resulted in several wins related to local bans on plastic bags, among other key issues, in the early 2018 legislative session. Complete programmatic accomplishments and updates for 2017 can be found in the IRS Form 990, accessible through the link presented below.
A fundraising campaign kicked off in 2015 in support of three initiatives of the Coastal Conservation League. One initiative is a new communications effort that began in the fall of 2015. The goal is to encourage active engagement from our members and supporters and to grow our donor base. Another important initiative is to expand existing programs to further efforts towards the mission of the organization. The Charleston area is in a period of high growth and we are committing resources to address the conservation challenges that occur in periods of rapid expansion. Our final initiative is to grow the endowment to $12 million by 2021. We feel this will be an increasingly important source of funding for annual Conservation League operations and new programmatic efforts in the future. These goals are geared toward long-term financial growth and sustainability.
The chart below illustrates the revenue trend over the past five years. The fundraising campaign discussed in the paragraph above has led to the revenue swing evident in the chart. It is important to note that according to Generally Accepted Accounting Principles (GAAP), nonprofit organizations are required to record revenue when campaign pledges are received rather than when campaign pledge payments are received. The result is typically a skewing of reported revenues to the earliest years of a campaign although the actual funds may be received during each year of the campaign. This is important to understand because it explains large revenue peaks and valleys at nonprofit organizations that rely on fundraising campaigns as a source of revenues. The $6.9 million revenue amount for 2015 in the chart above includes approximately $3.6 million in pledges that were counted as 2015 revenue although a significant amount of the cash will be received during the years 2016 through 2019.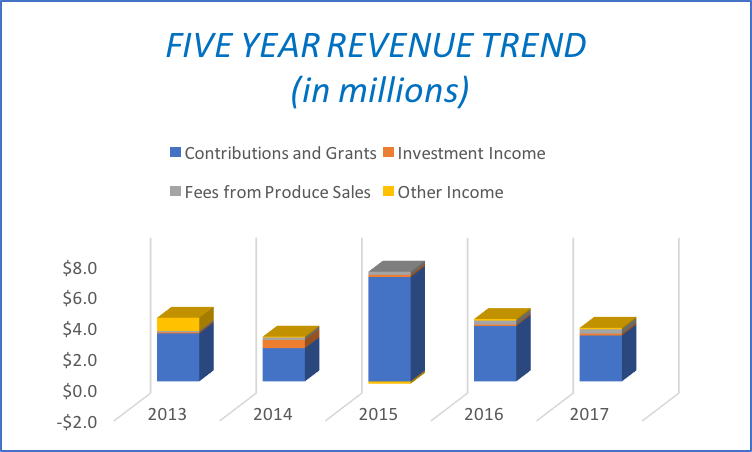 The chart above also illustrates the growth in produce sales over the five-year period. In 2013, fees generated from produce sales resulted in approximately $80,000 in revenue and is not noticeably visible in the chart above. By 2017, these same fees grew to approximately $280,000, and although small, is discernable in the chart.
The chart below presents the five-year trend in functional expenses. The growth in program expenses over the last five years is a result of the fundraising campaign initiatives. The large bump in administrative expense in 2015 was due primarily to a $130,000 increase in the allowance for pledge write-offs resulting from the $4.7 million in new pledges.  The Conservation League uses a target of approximately 5% of the outstanding pledge balance to calculate the write-off allowance. Administrative expenses also expanded in 2016 and 2017 due to the accounting and other administrative support needed to accommodate the growth in GrowFood Carolina operations, and meeting the increasing demands for compliance and accountability for non-profits organizations.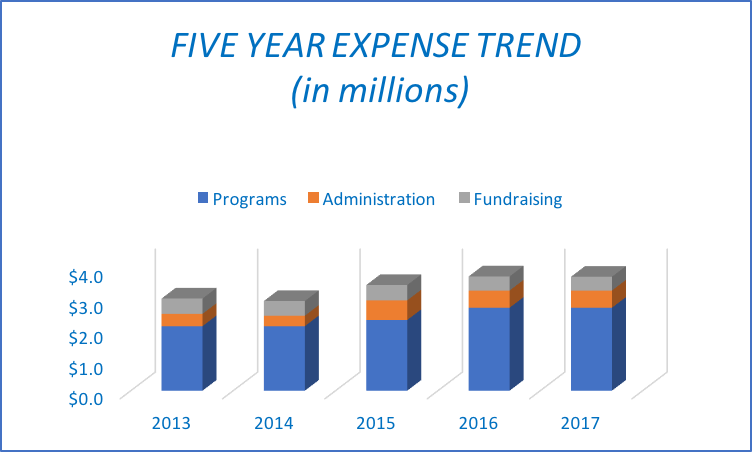 In addition to revenue generated each year, the Coastal Conservation League relies on a budgeted annual draw from the endowment account to cover expenses. This draw as stipulated in the Conservation League's investment policy is calculated to be 4.5% of the rolling three-year average of the year-end balance, and is expected to remain at that level for the foreseeable future. The result is that while the IRS Form 990 might reflect an annual deficit for certain years, this does not include the budgeted use of the endowment draw to support the organizational mission nor does it include the annual pledge payments made by donors.
The chart below shows both revenue and expenses over the last five years. The funding swings resulting from the fundraising campaign as discussed above are apparent. There is a strong correlation between revenues and net surplus or deficit since expenses are growing at a much slower and more predictable pace.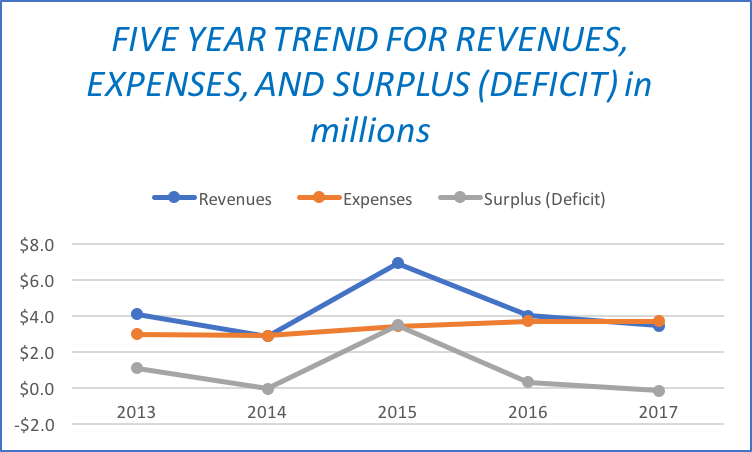 As we celebrate our first 28 years of accomplishments we are focused on positioning ourselves to meet the challenges for the future.  We are accomplishing this by making progress completing the campaign initiatives, which are expanding current programs and increasing communication with local and statewide communities to make those around us aware of issues that could potentially impact their quality of life.  We are updating current infrastructure to increase efficiency and cost effectiveness, and continue to grow the endowment principal to support the mission for generations to come.  We rely heavily on public support, and we look to you, our donors and potential donors, to help make this a reality!
We welcome your questions or requests for additional information. For more information, contact Chief Financial Officer Christina Allen at 843-723-7468. Please also see our:
Donor Privacy Policy: The Coastal Conservation League will not sell, trade or share a donor's personal information with anyone else besides our auditors or regulatory bodies upon request. The Coastal Conservation League will not send donor mailings on behalf of other organizations. For more information, see our Privacy Policy.
---
Staff Contact